If Advocate Was a Pizzeria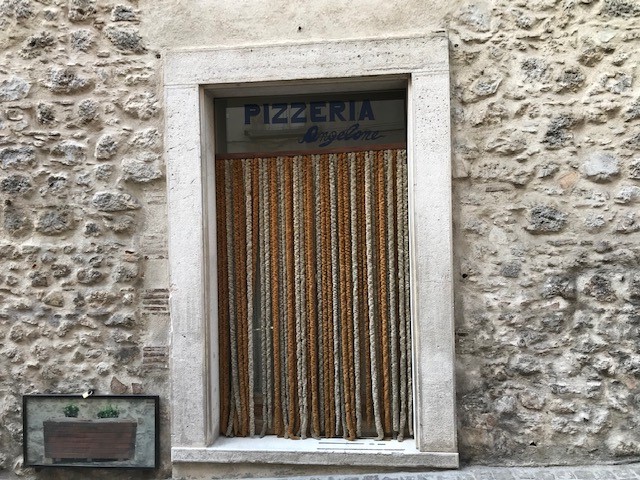 If Advocate was a pizzeria, this is what it would look like, except with a little more style and panache.
This pizzeria is in a small, medieval village about two hours southeast of Rome. The streets are paved with cobblestones. There are no cars in the village. Everyone knows everyone, including the gentleman who owns this pizzeria, Stefano. I've mentioned him before (see The Pizza Paradigm) because I like the way he runs his business.
It's small. There are only about 20 seats inside, all at very basic tables. Stefano sells pizza and calzone. That's it. He makes the dough himself. He does the cooking himself. He has one wood burning oven. He makes a certain number of doughs each morning and when he runs out, that's it. No more pizza that day. He's not concerned about mass volume. He cares about the quality and he won't compromise. His wife and daughter help him, but Stefano has his hands in everything.
I was lucky enough to visit his fine establishment last month. I hadn't been there for over ten years and wasn't sure what to expect. Y'know how sometimes your memory tends to glorify things? Happily, that wasn't the case. The pizza was still out of this world. The crust is so light it practically floats above your plate. I'm usually full after half a single serving pizza, but I polished off a pizza and a half of Stefano's without even feeling full. It's just that light and fluffy.
Like Stefano, Advocate Realty doesn't have a fancy office or splashy billboards. And we don't advertise on the radio or on tv or on bus shelters or on the boards at hockey rinks. Heck, we don't even have our faces on our business cards or our signs. That's because it's not about us individually and it's not about Advocate Realty. It's about taking care of our clients.
We never have a lot of clients on the go at the same time because then we'd be spread too thin to devote enough time to each client. That's a conscious choice we've made, just like Stefano. We're not concerned with mass volume. We care only about quality. We're not looking to work with everyone and anyone who wants to buy or sell a home, only those people with whom we think we'll be a good fit.
Lately we've been receiving an increasing number of enquiries from prospective clients who've heard about us from one source or another. I think that's partly due to our reputation and partly due to market conditions. Whether you're buying or selling, it's not an easy market to navigate properly on your own. It's important to have an expert by your side when such big prices are involved because you don't want to make a mistake. And it's very easy to make a very big mistake in this market. Here are but a few examples of mistakes we've seen that you'll want to avoid:
Buying the wrong home and wanting to move within a short time. This might be because the layout doesn't suit your needs or it's in the wrong school district or you find out about the new condo building that's going up a few doors away. You need to have a plan for investigating your options and analyzing the different homes you see before you buy one.
Selling your home without having a place to which to move or enough time to find a place to which to move. You don't want to be panicked into buying the wrong home, paying a huge premium because you're desperate or having to move in with relatives. You need to at least have a plan in place to find your new home.
Buying first without determining whether you're financially able to carry two homes if you need to. You don't want to find out you only have 2 weeks to sell your home because you may be forced into accepting a rock bottom price. Speak to the bank before you buy a new home, preferably even before you start looking at new homes.
Picking a low list price and selling your home for less than fair market value because you didn't get the bidding war you expected. You can set a low list price, receive multiple offers, and still sell your home for hundreds of thousands of dollars less than its fair market value. Setting a low list price is not always the right thing to do. Every situation is unique. Your Realtor should explain the different pricing options available to you and then advise which one is best for your specific situation.
I could go on and on and write a book filled only with examples of mistakes people make when buying and selling their homes. It bothers me to hear these kinds of stories. I want everyone to have a great buying or selling experience and I want everything to work out as close to perfection as possible. Not only is there a lot of money on the line, but your home is your castle, your shelter, your happy place. You need to love it.
This may be starting to sound like an ad for Advocate Realty, but it's not. There are about fifty thousand Realtors in Toronto. Every Realtor has a style. So does every buyer and seller. When you're looking for a Realtor, chances are you'll be able to find one you like WHO WILL BE ABLE TO DO A GREAT JOB FOR YOU. I really don't care if you call one of us at Advocate Realty. If we're your type of Realtor and you're our type of client, you'll know it (and you may even have already said to yourself "When it comes time to buy or sell, I'm definitely going to call Michael"). What I really, really want is for you to find a Realtor WHO WILL DO A GREAT JOB FOR YOU because I don't want you to make a costly mistake. There's just no reason for it. You spend time thinking about and looking for the pizza you like best. Spend some time finding the best Realtor for your job.
If you think we'd be a good fit and you're thinking of buying or selling, by all means feel free to give us a call or shoot us an email. We're always happy to speak to you. And if you want an even better idea of what we're about, you might want to take a quick read of the two notes recent clients wrote us (see below). [This is the ad for Advocate Realty.]
Note #1
Selling your house is stressful. Here's the story behind how we sold our house. It was 23 years ago when I found an agent named Michael Meltzer to help my wife and I BUY a house. He took us to 4 houses the first night we went out with him. One of those houses became the house we would live in for the next 23 years. We raised our two kids and over the years, 6 dogs in this house. Every year on the anniversary of our close, we received a card from Michael, thanking us for buying the house with him and offering us a free cake from a local exceptional bakery to celebrate the close of our house. When it came time to sell our house, there was only one company and one person to sell our house. Michael Meltzer and his team at Advocate Realty. He educated us (We came to call him Yoda. He came to call us Grasshopper. Different movies with different references but you get the point.). He was patient with us (my wife and I are super Type A and impatient, he held our hands and talked us off many ledges). He approached the sale of our house strategically. He priced it perfectly. He counselled us brilliantly. We were happy with the result. The market is weird right now. He has no crystal ball. But he is smart and strategic and pragmatic. His advice was flawless. He knows North Toronto. He understands the market. I can not recommend him enough. I would say to anyone who wants to be able to trust their agent, to believe what they say, to know that they will deal with you and any buyer's agent with integrity and humanity, that they should hire Michael and his team. You will not only not regret it, you will be thrilled. Michael was our guardian angel, our teacher, our psychologist, and, well, our advocate. There is no agent like him. Hire him. You too, will be thrilled.
Cori & Bryan
Note #2
I often call Michael the most patient realtor in town. We have been working with him on and off for several years, but in earnest for the last two. While many agents might have given up on us for our apparent lack of ability to make a commitment, Michael knew we were ready to commit – it just had to be to the right house. In fact, Michael steered us away from a couple of houses we were considering because he knew they were not right for us. He truly listened when we told him what we were looking for, and continued to refine our criteria with every house we viewed. Then, when we found "the" house, we all knew it.
Michael guided us expertly through the purchase process. He was the voice of reason when we became emotional, but was not detached. He knew we had a lot invested in the process and took great care to ensure we felt supported and that we were making the right decision.
If buying a house is an emotional roller coaster, selling one is perhaps even more so. Again, Michael guided us through the steps, made sure our expectations were reasonable and helped ensure offer night went as smoothly as possible.
We've spent a bit of time with Michael over the years, and along with his knowledge and professionalism, we appreciate his quiet, dry sense of humour. It makes the sometimes boring, sometimes demoralizing process of house hunting more fun.
Michael's team at Advocate is every bit as professional and helpful. We've had many conversations and email exchanges with Corinne and Daina, who go out of their way to find information for us quickly. It is clear that Michael surrounds himself with people with the same work ethic, integrity and genuine interest in their clients as he has.
We are very excited to move into our new home and are very pleased with the outcomes on both the purchase and sale sides. We don't plan on needing to, but we would definitely work with Michael again, and we would recommend him and his team to anyone looking for a real estate brokerage that will personalize their service to ensure every client's unique needs are addressed.
Thank you Michael, and Advocate Realty!
Aileen & Jeff and family