True confession: I still go to agents' open houses. (If you know me, you'll know this is about as juicy as it gets.) I know I could save a lot of time by looking at the photos online, but I like to keep up to date with the market and find I get a better sense of what a home is worth when I see it firsthand.
The other day I saw two homes in central Toronto while on my tour of agents' open houses, one after the other, that made me pause and think. The first was a new custom home on a 25' wide lot for approximately $2.8m. The second was only a few blocks away in the same neighbourhood and was an older home on a 50' wide lot that was in good shape, but not recently renovated. It was also priced at approximately $2.8m. Did it make sense that a home on a 25' wide lot was worth the same as a home on a 50' wide lot? Or was one worth more than the other?
To some people, gold is valuable. To others, diamonds are a gold mine. Stocks have value, some more than others. And residential real estate in central Toronto has proven its value as a good long term investment, too. So which one of the two homes I saw do YOU think has more value?
To help you, take a look at the chart below which appeared in The Meltzer Real Estate Review back in 1993 and refers to the John Wanless and Bedford Park neighbourhoods at Yonge and Lawrence.
Bungalows were about $215,000 then and are about $1.6m now. They've increased approximately eightfold over the past twenty-five years.
Semis were $250,000 then and are $1.25m now, a fivefold increase.
Three bedroom detached homes on 25' lots have gone from $300,000 to $1.6m, a little over a fivefold increase.
Three bedroom detached homes with family room additions on 25' lots have gone from $350,000 to $1.65m, an increase of just under fivefold.
New custom homes have increased from $425,000 to $2.75m which is an increase of about 6.5 times.
(Note: All prices are estimates based on recent sales. I've rounded them off to make the comparisons easier.)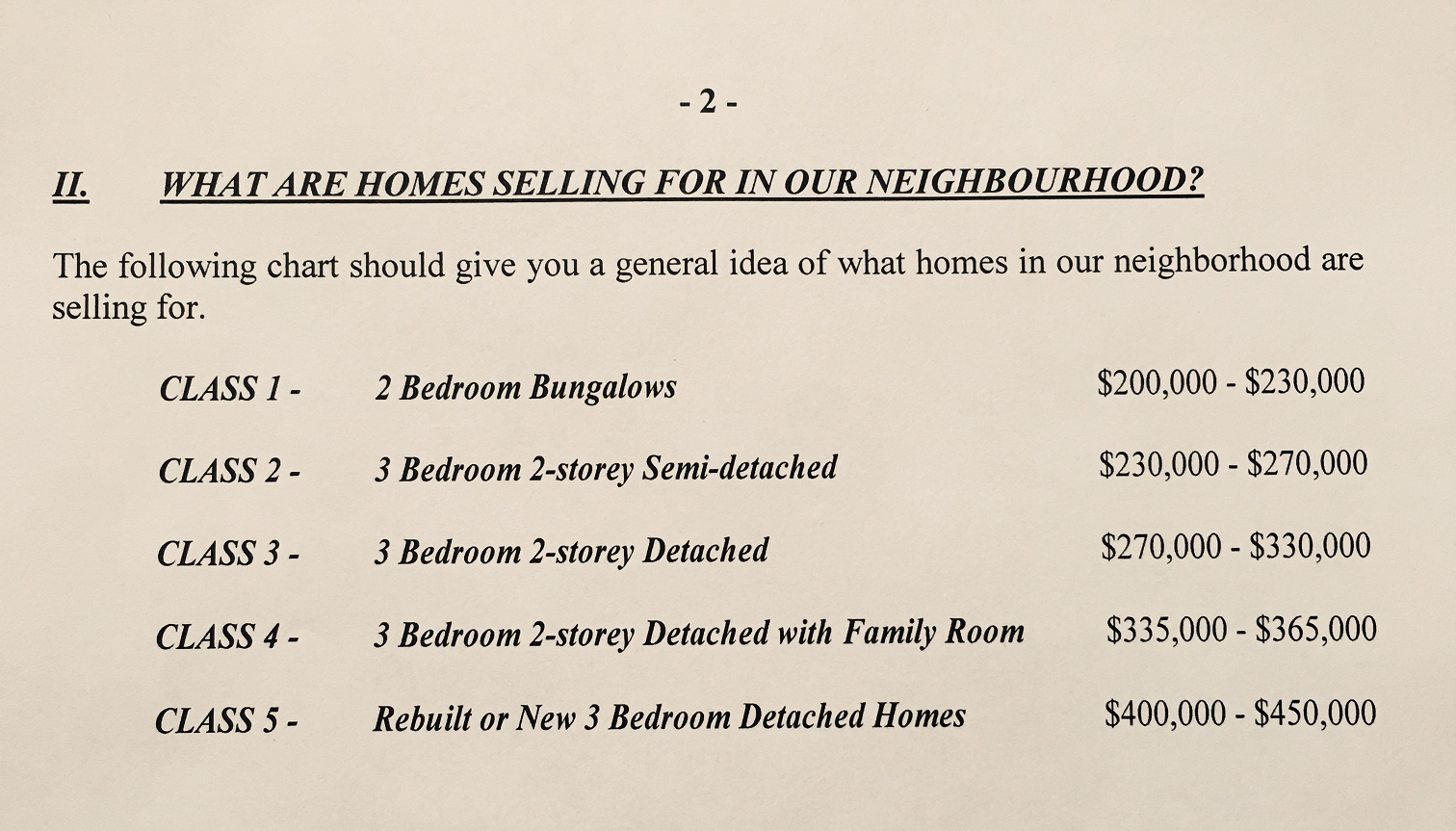 Bungalows appear to have been the best investment. They're the only style of home to have increased in value eightfold. And you would have enjoyed this increase even if you didn't touch the home and left it to deteriorate over the twenty-five year span because the increase is based purely on the increase in the land value. If you bought a new custom home in 1993 for $425,000 it wouldn't be worth $2.75m now. That's what a brand new custom home would be worth. Your 1993 custom home might be worth $2m now, less than a fivefold increase, but that's only if you took good care of it.
So which of the two homes I saw do you think has more value – the new home on the 25' lot or the older home on the 50' lot? I've been thinking of my own answer to this question and the conclusion I come to is there's no right answer because it depends on how you define value. If you value living in a new home with all the nice modern features it offers, then that home has greater value for you. But keep in mind that after twenty-five years, if you're still there, you'll be living in an older home on a 25' lot. If you prefer a home that'll likely be a better long term investment because the lot is twice as big, then the older home holds more value for you. It's all a matter of taste. Personally, I like land. They're not making any more. But maybe you'd prefer gold, diamonds or stocks?
As always, I'd be happy to talk to you about your options if you're thinking of buying or selling in the near future. Also, if you know anyone who is interested in learning how the market works and would like to receive the kind of help that involves honest answers, straightforward advice, no pressure and being treated like family, please let me know the best way for me to connect with them because I'd like to offer them this kind of help. And as always, don't be shy if you have any questions or comments about this post! Thanks for reading.